There's a reason that it's called a "show-home". It's all for show. 
It's definitely not for living. 
Unless "living" is walking around with bottles of glass cleaner and rags all day and then at night, secretly throwing toys into cardboard boxes whilst your children sleep. "They'll never miss these! Bye-bye, cluttery pieces of plastic!"
But in order for prospective buyers to actually imagine themselves in the house, the seller's house has to achieve all of the "De-"s. 
1. De-clutter
2. De-personalize
3. Decorate
De-tastic! (see what I did there?)
The first rule of the "Show Home": De-clutter
This one was hard for me, and for most. People love clutter. The kitchen island is normally chock full of stuff – papers, iPod dock, a place for pens, some framed pictures – it's basically the landing pad for all-things-crap in the house.
It has to be cleared.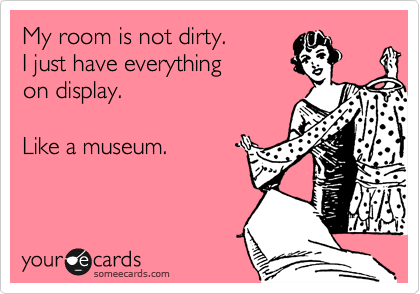 And as a buyer, I can say that clutter is distracting. Buyers will spend too much time looking at your collection of ceramic cats on the windowsill or your sloppy piles of bills on the desk. They forget to look at the bones of the house.
This is why in-laws with a basement are very useful at a time like this. The hoard is visiting Grandma and Grandpa right now. Yay!
When you are decluttering, though, be sure to not get so flustered that you lose all of your smarts. 
Exhibit A: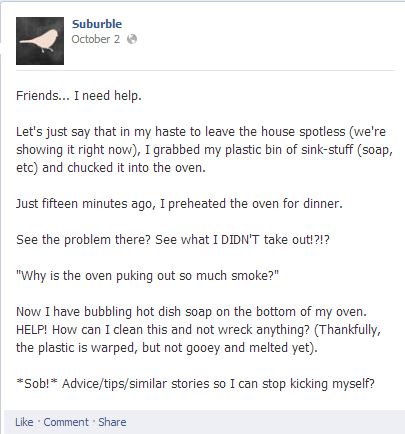 Maybe don't put stuff in your oven. It can be a harsh lesson.
Second rule of the "Show-Home": De-personalize.
I like my stuff, and I like it to sometimes feature pictures of my adorable kids.
Buyers don't like this. They don't feel like they can live in that house. They need to imagine their own child's graduation photo on the wall. They have a hard time walking past the sign that says, "The Smiths" or "Beware of Guard Cat" on the front walk.
Personal stuff claims the home. It screams, "You don't live here! Go live somewhere else! Not in this place where Tommy and Janice live. With their ceramic cat collection!"
Once your house has ample space, clean countertops, and picture frames that don't have Cousin Vinny staring back at you, you're ready to decorate.
Third Rule of the "Show-Home": Decorate
This doesn't mean that you run into Target and start throwing things into the cart willy-nilly in hopes that you can suddenly achieve style in your space. 
Really, this means that you want to make your house as appealing as possible, without offending anyone's tastes.
It sounds about as beige as butter, but it doesn't have to be. Basically, think "hotel". What would I like to see in a hotel if I entered the room?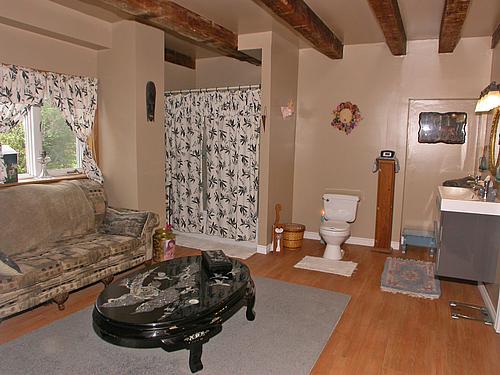 Probably not this. "Hi Toilet!"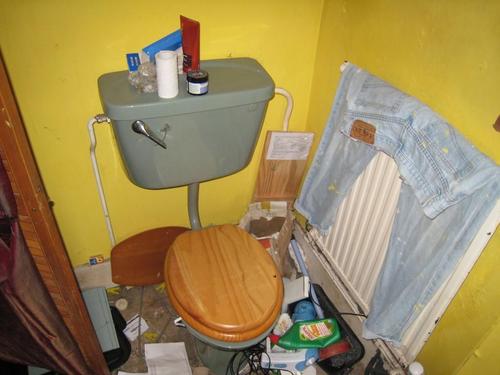 Or this. Why pictures of toilets?
I don't know.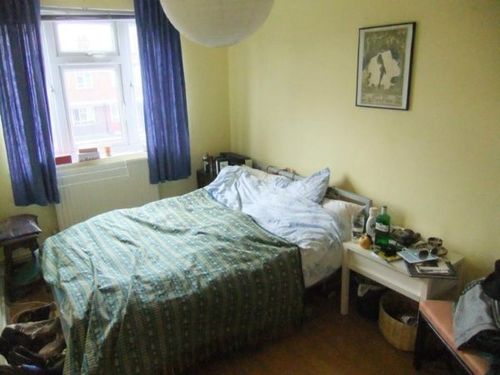 And put your bedtime booze away. At least while the agent is taking the photos. 
I"ll give you some more decorating hints: not bright purple walls. Not carpets that have giant brown stains on them. Not towels that are crumpled and a bit damp. Not cracked mirrors nor rumpled unmade beds. 
If it's THAT terrible, then just get it out of the house. I'd rather see a bare floor than a stained and ripped area rug.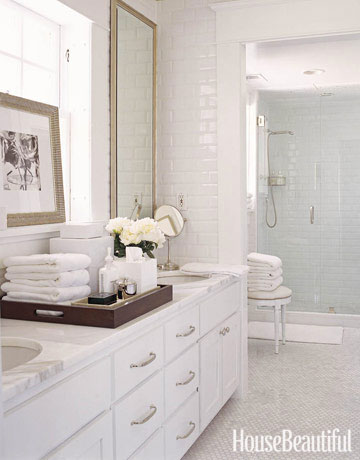 Source 
Do you think that these towels have ever seen a sticky hand or a blob of toothpaste? No. They haven't. This is House Beautiful for the love of Pete!
Basically, people want to think that you take care of your place. They'll feel more comfortable in the house, and thus, will stay longer and perhaps fall in love with the space!